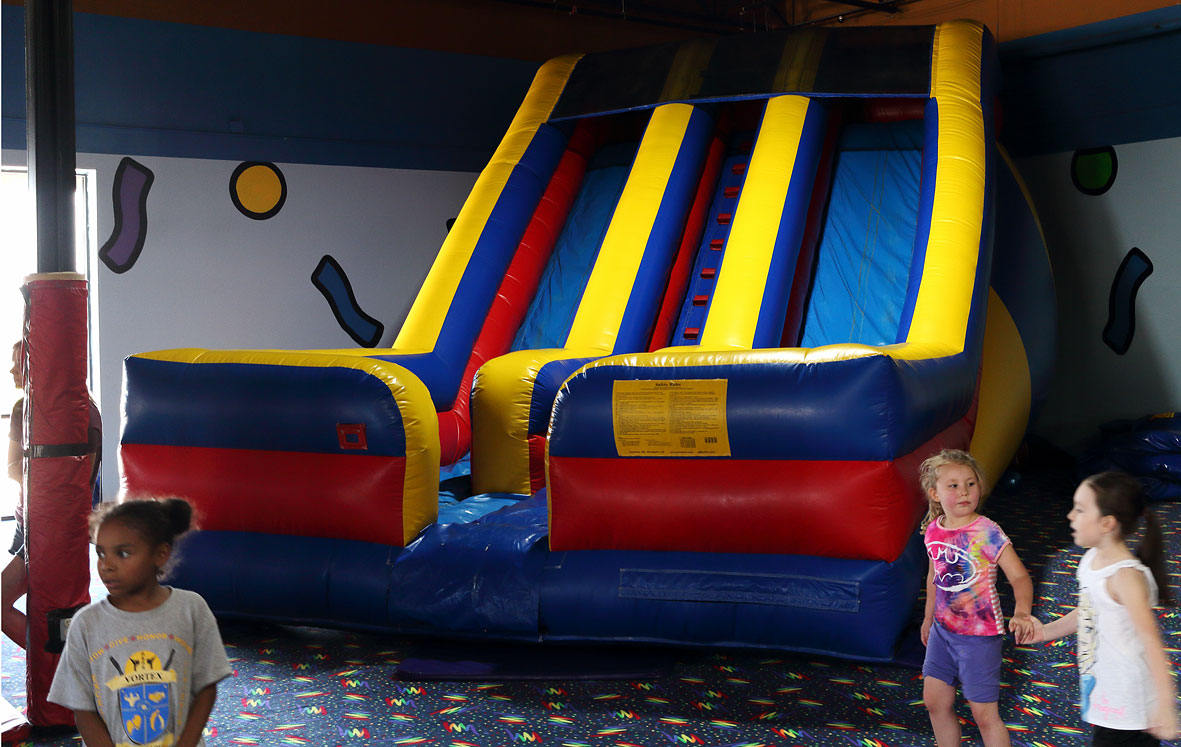 Frequently Asked Questions
What is your mask policy for COVID-19?
Vaccinated individuals no longer need to wear a mask. We still encourage unvaccinated adults to wear facial coverings but do not check for proof of vaccination. Children do not need to wear a mask.
Is it customary to tip your party attendant?
If your attendant provides you with good customer service, then yes a tip is appreciated. It is customary to tip anywhere from 8-10%. All Club Bear parties will be assessed an 8% gratuity.
How far in advance should I book my party?
Parties should be booked as far in advance as possible. Try to book at least one month in advance during the school year.
Is the deposit refundable?
No. Deposits are not refundable. We can move the date or time for you at no extra cost as long as we are given a two week notice. After moving your party date once, all additional moves will be assessed an additional party deposit.
How early should guests arrive?
Guests should arrive about 15 minutes before the party start time to sign in, review BOUNCIN' BEARS of Texas rules and get their socks on to play. Parents, grandparents, aunts, uncles, your friend down the street and your long lost cousin from Australia MUST wear socks, whether playing or just watching!
Can I bring in my own goody bags?
Yes, you can bring your own goody bags.  Please hand them out as your guests are leaving out the front door.
Do I have to set up and clean up?
No, BOUNCIN' BEARS of Texas takes the stress off of you by ensuring that your party is set up by your attendant. All food MUST stay in the party room. Any food taken out by your guests will be assessed a $100 cleanup fee by the party host. We will do the cleaning up while you enjoy your child's birthday and visit with your guests. All pinatas will require a $25 clean-up fee, no exceptions. 
Are all guests required to sign a waiver?
Yes. No one is allowed in the facility without a signed waiver. All guests MUST sign in. We are a children's facility and unattended adults are especially asked to sign in with the desk. We will ask you to leave if you do not sign in. Again, there are children on the premise and we take their safety seriously. Unattended adults will be signed in for open jump or parties. NO EXCEPTIONS.  
Can Adults jump with their children?
Yes! Adults are invited to participate in the fun.  PARENTS ARE NOT ALLOWED TO GET ROUGH WITH CHILDREN, AND MUST FOLLOW ALL RULES! Parents/Guardians MUST wear socks, playing or watching.
What credit cards do you accept?
We accept Visa, MasterCard, Discover, and American Express.
Are you concerned about the lead content in the inflatables at Bouncin' Bears?
We take safety very seriously at Bouncin' Bears. We chose Ninja Jump to supply us with our inflatables. Ninja Jump's dedication to safety in the industry is confirmed daily as they design and construct inflatables that comply with the ASTM F-24 committee standards on Amusement Rides and Devices. Ninja Jump is also an active voting committee member in the ASTM F-24 committee.

Ninja Jump has been recently tested (2010). All the "lead" content in all materials used by Ninja Jump is far below the allowable amounts (300 ppm), or none was detected. Ninja Jump's Inflatable's are in compliance with CPSIA and Prop. 65 "lead" content requirements making them among the safest devices available in our industry today.
Why do you require people to wear socks if they're not playing/jumping?
We work hard to keep our facility clean. As much as you try to wipe off your shoes, your shoes track in dirt and debris. We have infants on the floor in the toddler zone and we have a group of regulars that come in each week to give their little ones 'tummy time'. Just like many people do not like shoes on in their home, we like socked feet in ours. We repeatedly receive compliments for a clean facility, and we want to keep receiving those compliments.